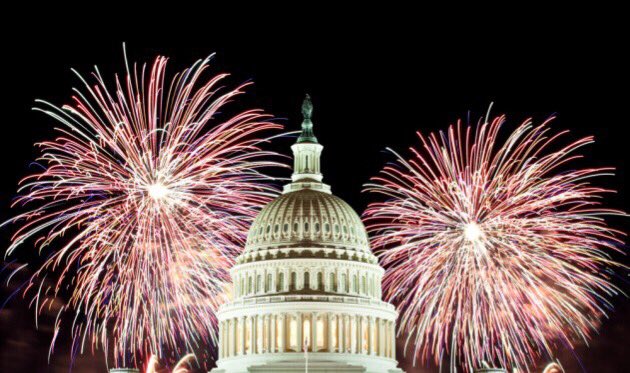 Gee - if only it didn't look like this Fab Fireworks Fourth was planned to be coincident with the start of the next world war (see North Korea coverage on Fox News, etc.). And who paid for that million-dollar fireworks display? And why? (Surely not the country already in trillions of dollars of debt, which evokes almost instantaneous explosive anger in every so-called conservative in residence.)
I'm just hoping that all those fireworks weren't a prelude to the next U.S. war attack. As U.S. troops officially reenter Afghanistan, Iraq, and Yemen and Syria, it's ominous that the happy-time media we are deluged with at every opportunity is about big bad North Korea launching a scary test missile (in their immediate sphere of influence, not in ours) on our 4th of July holiday.
_______________
"And let's be

honest

, the only reason Kim Jong Un hasn't joined Saddam and Gadhafi in the great hereafter, is because (a) – The North does not sit on an ocean of oil, and (b) – The North has the capacity to reduce Seoul, Okinawa and Tokyo into smoldering debris-fields. Absent Kim's WMDs, Pyongyang would have faced a preemptive attack long ago and Kim would have faced a fate similar to Gadhafi's. Nuclear weapons are the only known antidote to US adventurism.
The American people – whose grasp of history does not extend beyond the events of 9-11 — have no idea of the way the US fights its wars or the horrific carnage and destruction it unleashed on the North. Here's a short refresher that helps clarify why the North is still wary of the US more than 60 years after the armistice was signed. The excerpt is from an article titled "Americans have forgotten what we did to North Korea," at Vox World:
"In the early 1950s, during the Korean War, the US dropped more bombs on North Korea than it had dropped in the entire Pacific theater during World War II. This carpet bombing, which included 32,000 tons of napalm, often deliberately targeted civilian as well as military targets, devastating the country far beyond what was necessary to fight the war. Whole cities were destroyed, with many thousands of innocent civilians killed and many more left homeless and hungry….
According to US journalist Blaine Harden: "Over a period of three years or so, we killed off — what — 20 percent of the population," Air Force Gen. Curtis LeMay, head of the Strategic Air Command during the Korean War, told the Office of Air Force History in 1984. Dean Rusk, a supporter of the war and later secretary of state, said the United States bombed "everything that moved in North Korea, every brick standing on top of another." After running low on urban targets, U.S. bombers destroyed hydroelectric and irrigation dams in the later stages of the war, flooding farmland and destroying crops."
__________
Seymour Hersh, America's most famous investigative reporter, has become

persona non grata

in the American Propaganda Ministry that poses as a news media but only serves to protect the US government's war lies. Among his many triumphs Hersh exposed the American My Lai massacre in Vietnam and the Abu Ghraib torture prison run by the Americans in Iraq. Today his investigative reports have to be published in the London Review of Books or in the German Media.
From Hersh's latest investigative report, we learn that President Trump makes war decisions by watching staged propaganda on TV. The White Helmets, a propaganda organization for jihadists and the "Syrian opposition," found a gullible reception from the Western media for photographs and videos of alleged victims of a Syrian Army sarin gas attack on civilians in Khan Sheikhoun. Trump saw the photos on TV and despite being assured by US intelligence that there was no Syrian sarin gas attack, ordered the US military to strike a Syrian base with Tomahawk missiles. Under international law this strike was a war crime, and it was the first direct aggression against Syria by the US which previously committed aggression via proxies called "the Syrian opposition."
Reporting on his sources, Hersh writes: "In a series of interviews, I learned of the total disconnect between the president and many of his military advisers and intelligence officials, as well as officers on the ground in the region who had an entirely different understanding of the nature of Syria's attack on Khan Sheikhoun. I was provided with evidence of that disconnect, in the form of transcripts of real-time communications, immediately following the Syrian attack on April 4."

The belief that sarin gas was involved in the attack comes from what appears to be a gas cloud. Hersh was informed by US military experts that sarin is oderless and invisible and makes no cloud. What appears to have happened is that the explosion from the air attack on ISIS caused a series of secondary explosions that produced a toxic cloud formed by fertilizers and chlorine disinfectants that were stored in the building that was hit.

US officials spoke with Hersh, because they are disturbed that President Trump based a war decision on TV propaganda and refused to listen to the detailed counter-assessments of his intelligence and military services. A national security source told Hersh: "Everyone close to him knows his proclivity for acting precipitously when he does not know the facts. He doesn't read anything and has no real historical knowledge. He wants verbal briefings and photographs. He's a risk-taker. He can accept the consequences of a bad decision in the business world; he will just lose money. But in our world, lives will be lost and there will be long-term damage to our national security if he guesses wrong. He was told we did not have evidence of Syrian involvement and yet Trump says: 'Do it."'

Concerns about Trump's purely emotional reaction to TV propaganda persist. Hersh reports that a senior national security adviser told him: "The Salafists and jihadists got everything they wanted out of their hyped-up Syrian nerve gas ploy" (the flare-up of tensions between Syria, Russia and America). The issue is, what if there's another false flag sarin attack credited to hated Syria? Trump has upped the ante and painted himself into a corner with his decision to bomb. And do not think these guys are not planning the next faked attack. Trump will have no choice but to bomb again, and harder. He's incapable of saying he made a mistake."

As we know, the White House has already released a statement predicting that Assad is preparing another chemical attack, for which, the White House promises, he will "pay a heavy price." Clearly, a false flag attack is on the way. https://www.strategic-culture.org/news/2017/06/30/washington-new-threat-against-syria-russia-iran-invitation-false-flag-operation.html

By all means, read Hersh's report: https://www.welt.de/politik/ausland/article165905578/Trump-s-Red-Line.html

It reveals a president who makes precipitious decisions likely to cause a war with Russia.

I do not doubt Sy Hersh's integrity. I accept that he has accurately reported what he was told by US officials. My suspicions about this story do not have to do with Hersh. They have to do with what Hersh was told.

Hersh's report puts Trump in a very bad light, and it puts the military/security complex, which we know has been trying to destroy Trump, in a very good light. Moreover, the story strikes me as inconsistent with the subsequent attack on the Syrian fighter-bomber by the US military. If the Tomahawk attack on the Syrian base was unjustified, what justified downing a Syrian war plane? Did Trump order this attack as well? If not, who did? Why?

If national security advisers gave Trump such excellent information about the alleged sarin gas attack, completely disproving any such attack, why was he given such bad advice about shooting down a Syrian war plane, or was it done outside of channels? The effect of the shootdown is to raise the chance of a confrontation with Russia, because Russia's response apparently has been to declare a no-fly zone over the area of Russian and Syrian operations.

How do we know that what Hersh was told was true? What if Trump was encouraged to order the Tomahawk strike as a way of interjecting the US directly into the conflict? Both the US and Israel have powerful reasons for wanting to overthrow Assad. However, ISIS, sent to do the job, has been defeated by Russia and Syria. Unless Washington can somehow get directly involved, the war is over.

The story Hersh was given also serves to damn Trump while absolving the intelligence services. Trump takes the hit for injecting the US directly into the conflict.

Hersh's story reads well, but it easily could be a false story planted on him. I am not saying that the story is false, but unless we learn more, it could be.

What we do know is that the story given to Hersh by national security officials is inconsistent with the June 26 White House announcement that the US has "identified potential preparations for another chemical attack by the Assad regime." The White House does not have the capability to conduct its own foreign intelligence gathering. The White House is informed by the national security and intelligence agencies.

In the story given to Hersh, these officials are emphatic that not only were chemical weapons removed from Syria, but also that Assad would not use them or be permitted by the Russians to use them even if he had them. Moreover, Hersh reports that he was told that Russia fully informed the US of the Syrian attack on ISIS in advance. The weapon was a guided bomb that Russia had suppied to Syria. Therefore, it could not have been a chemical weapon.

As US national security officials made it clear to Hersh that they do not believe Syria did or would use any chemical weapons, what is the source for the White House's announcement that preparations for another chemical attack by the Assad regime have been identified?

Who lined up UN ambassador Nikki Haley and the UK Defence Minister Michael Fallon to be ready with statements in support of the White House announcement? Haley says: "Any further attacks done to the people of Syria will be blamed on Assad, but also on Russia & Iran who support him killing his own people." Fallon says: "we will support" future US action in response to the use of chemical weapons in Syria.

How clear does an orchestration have to be before people are capable of recognizing the orchestration?
The intelligence agencies put out the story via Hersh that there were no chemical attacks, so what attacks is Niki Haley speaking about?

A reasonable conclusion is that Washington's plan to use ISIS to overthrow Syria and then start on Iran was derailed by Russian and Syrian military success against ISIS. The US then tried to partition Syria by occupying part of it, but were out-manuevered by the Russians and Syrians. This left direct US involvement as the only alternative to defeat. This direct US military involvement began with the US attack on the Syrian military base and was followed by shooting down a Syrian war plane. The next stage will be a US-staged false flag chemical attack or alleged chemical attack, and this false flag, as has already been announced, will be the excuse for larger scale US military action against Syria, which, unless the Russians abandon Syria, means conflict with Russia, Iran, and perhaps China.
_____________
There is

ample

evidence of breeding between Neanderthals and the ancestors of modern humans some 50,000 years ago. "Everyone knows Neanderthals gave us genes," says Cosimo Posth at the Max Planck Institute for the Science of Human History in Leipzig, Germany.
Analysis of mitochondrial DNA from a Neanderthal femur found in south-western Germany now adds to evidence that there was earlier interbreeding. The DNA in the energy-producing mitochondria in our cells is different from that in our cell nuclei, and is passed only down the female line.
Puzzlingly, the mtDNA in Neanderthal bones is more similar to that of modern humans than it is to that of the Denisovans.
______________
28 June 17
President Donald Trump ignored important intelligence reports when he decided to attack Syria after he saw pictures of dying children. Seymour M. Hersh investigated the case of the alleged Sarin gas attack.
n April 6, United States President Donald Trump authorized an early morning Tomahawk missile strike on Shayrat Air Base in central Syria in retaliation for what he said was a deadly nerve agent attack carried out by the Syrian government two days earlier in the rebel-held town of Khan Sheikhoun. Trump issued the order despite having been warned by the U.S. intelligence community that it had found no evidence that the Syrians had used a chemical weapon.
The available intelligence made clear that the Syrians had targeted a jihadist meeting site on April 4 using a Russian-supplied guided bomb equipped with conventional explosives. Details of the attack, including information on its so-called high-value targets, had been provided by the Russians days in advance to American and allied military officials in Doha, whose mission is to coordinate all U.S., allied, Syrian and Russian Air Force operations in the region.
Some American military and intelligence officials were especially distressed by the president's determination to ignore the evidence. "None of this makes any sense," one officer told colleagues upon learning of the decision to bomb. "We KNOW that there was no chemical attack ... the Russians are furious. Claiming we have the real intel and know the truth ... I guess it didn't matter whether we elected Clinton or Trump."
Within hours of the April 4 bombing, the world's media was saturated with photographs and videos from Khan Sheikhoun. Pictures of dead and dying victims, allegedly suffering from the symptoms of nerve gas poisoning, were uploaded to social media by local activists, including the White Helmets, a first responder group known for its close association with the Syrian opposition.
The provenance of the photos was not clear and no international observers have yet inspected the site, but the immediate popular assumption worldwide was that this was a deliberate use of the nerve agent sarin, authorized by President Bashar Assad of Syria. Trump endorsed that assumption by issuing a statement within hours of the attack, describing Assad's "heinous actions" as being a consequence of the Obama administration's "weakness and irresolution" in addressing what he said was Syria's past use of chemical weapons.
To the dismay of many senior members of his national security team, Trump could not be swayed over the next 48 hours of intense briefings and decision-making. In a series of interviews, I learned of the total disconnect between the president and many of his military advisers and intelligence officials, as well as officers on the ground in the region who had an entirely different understanding of the nature of Syria's attack on Khan Sheikhoun. I was provided with evidence of that disconnect, in the form of transcripts of real-time communications, immediately following the Syrian attack on April 4. In an important pre-strike process known as deconfliction, U.S. and Russian officers routinely supply one another with advance details of planned flight paths and target coordinates, to ensure that there is no risk of collision or accidental encounter (the Russians speak on behalf of the Syrian military). This information is supplied daily to the American AWACS surveillance planes that monitor the flights once airborne. Deconfliction's success and importance can be measured by the fact that there has yet to be one collision, or even a near miss, among the high-powered supersonic American, Allied, Russian and Syrian fighter bombers.
Russian and Syrian Air Force officers gave details of the carefully planned flight path to and from Khan Shiekhoun on April 4 directly, in English, to the deconfliction monitors aboard the AWACS plane, which was on patrol near the Turkish border, 60 miles or more to the north.
The Syrian target at Khan Sheikhoun, as shared with the Americans at Doha, was depicted as a two-story cinder-block building in the northern part of town. Russian intelligence, which is shared when necessary with Syria and the U.S. as part of their joint fight against jihadist groups, had established that a high-level meeting of jihadist leaders was to take place in the building, including representatives of Ahrar al-Sham and the al-Qaida-affiliated group formerly known as Jabhat al-Nusra. The two groups had recently joined forces, and controlled the town and surrounding area. Russian intelligence depicted the cinder-block building as a command and control center that housed a grocery and other commercial premises on its ground floor with other essential shops nearby, including a fabric shop and an electronics store.

"The rebels control the population by controlling the distribution of goods that people need to live – food, water, cooking oil, propane gas, fertilizers for growing their crops, and insecticides to protect the crops," a senior adviser to the American intelligence community, who has served in senior positions in the Defense Department and Central Intelligence Agency, told me. The basement was used as storage for rockets, weapons and ammunition, as well as products that could be distributed for free to the community, among them medicines and chlorine-based decontaminants for cleansing the bodies of the dead before burial. The meeting place – a regional headquarters – was on the floor above. "It was an established meeting place," the senior adviser said. "A long-time facility that would have had security, weapons, communications, files and a map center." The Russians were intent on confirming their intelligence and deployed a drone for days above the site to monitor communications and develop what is known in the intelligence community as a POL – a pattern of life. The goal was to take note of those going in and out of the building, and to track weapons being moved back and forth, including rockets and ammunition.

One reason for the Russian message to Washington about the intended target was to ensure that any CIA asset or informant who had managed to work his way into the jihadist leadership was forewarned not to attend the meeting. I was told that the Russians passed the warning directly to the CIA. "They were playing the game right," the senior adviser said. The Russian guidance noted that the jihadist meeting was coming at a time of acute pressure for the insurgents: Presumably Jabhat al-Nusra and Ahrar al-Sham were desperately seeking a path forward in the new political climate. In the last few days of March, Trump and two of his key national security aides – Secretary of State Rex Tillerson and UN Ambassador Nikki Haley – had made statements acknowledging that, as the New York Times put it, the White House "has abandoned the goal" of pressuring Assad "to leave power, marking a sharp departure from the Middle East policy that guided the Obama administration for more than five years." White House Press Secretary Sean Spicer told a press briefing on March 31 that "there is a political reality that we have to accept," implying that Assad was there to stay.
Russian and Syrian intelligence officials, who coordinate operations closely with the American command posts, made it clear that the planned strike on Khan Sheikhoun was special because of the high-value target. "It was a red-hot change. The mission was out of the ordinary – scrub the sked," the senior adviser told me. "Every operations officer in the region" – in the Army, Marine Corps, Air Force, CIA and NSA – "had to know there was something going on. The Russians gave the Syrian Air Force a guided bomb and that was a rarity. They're skimpy with their guided bombs and rarely share them with the Syrian Air Force. And the Syrians assigned their best pilot to the mission, with the best wingman." The advance intelligence on the target, as supplied by the Russians, was given the highest possible score inside the American community.
The Execute Order governing U.S. military operations in theater, which was issued by the Chairman of the Joint Chiefs of Staff, provide instructions that demarcate the relationship between the American and Russian forces operating in Syria. "It's like an ops order – 'Here's what you are authorized to do,'" the adviser said. "We do not share operational control with the Russians. We don't do combined operations with them, or activities directly in support of one of their operations. But coordination is permitted. We keep each other apprised of what's happening and within this package is the mutual exchange of intelligence. If we get a hot tip that could help the Russians do their mission, that's coordination; and the Russians do the same for us. When we get a hot tip about a command and control facility," the adviser added, referring to the target in Khan Sheikhoun, "we do what we can to help them act on it." "This was not a chemical weapons strike," the adviser said. "That's a fairy tale. If so, everyone involved in transferring, loading and arming the weapon – you've got to make it appear like a regular 500-pound conventional bomb – would be wearing Hazmat protective clothing in case of a leak. There would be very little chance of survival without such gear. Military grade sarin includes additives designed to increase toxicity and lethality. Every batch that comes out is maximized for death. That is why it is made. It is odorless and invisible and death can come within a minute. No cloud. Why produce a weapon that people can run away from?"
The target was struck at 6:55 a.m. on April 4, just before midnight in Washington. A Bomb Damage Assessment (BDA) by the U.S. military later determined that the heat and force of the 500-pound Syrian bomb triggered a series of secondary explosions that could have generated a huge toxic cloud that began to spread over the town, formed by the release of the fertilizers, disinfectants and other goods stored in the basement, its effect magnified by the dense morning air, which trapped the fumes close to the ground. According to intelligence estimates, the senior adviser said, the strike itself killed up to four jihadist leaders, and an unknown number of drivers and security aides. There is no confirmed count of the number of civilians killed by the poisonous gases that were released by the secondary explosions, although opposition activists reported that there were more than 80 dead, and outlets such as CNN have put the figure as high as 92. A team from Médecins Sans Frontières, treating victims from Khan Sheikhoun at a clinic 60 miles to the north, reported that "eight patients showed symptoms – including constricted pupils, muscle spasms and involuntary defecation – which are consistent with exposure to a neurotoxic agent such as sarin gas or similar compounds." MSF also visited other hospitals that had received victims and found that patients there "smelled of bleach, suggesting that they had been exposed to chlorine." In other words, evidence suggested that there was more than one chemical responsible for the symptoms observed, which would not have been the case if the Syrian Air Force – as opposition activists insisted – had dropped a sarin bomb, which has no percussive or ignition power to trigger secondary explosions. The range of symptoms is, however, consistent with the release of a mixture of chemicals, including chlorine and the organophosphates used in many fertilizers, which can cause neurotoxic effects similar to those of sarin.
The internet swung into action within hours, and gruesome photographs of the victims flooded television networks and YouTube. U.S. intelligence was tasked with establishing what had happened. Among the pieces of information received was an intercept of Syrian communications collected before the attack by an allied nation. The intercept, which had a particularly strong effect on some of Trump's aides, did not mention nerve gas or sarin, but it did quote a Syrian general discussing a "special" weapon and the need for a highly skilled pilot to man the attack plane. The reference, as those in the American intelligence community understood, and many of the inexperienced aides and family members close to Trump may not have, was to a Russian-supplied bomb with its built-in guidance system. "If you've already decided it was a gas attack, you will then inevitably read the talk about a special weapon as involving a sarin bomb," the adviser said. "Did the Syrians plan the attack on Khan Sheikhoun? Absolutely. Do we have intercepts to prove it? Absolutely. Did they plan to use sarin? No. But the president did not say: 'We have a problem and let's look into it.' He wanted to bomb the shit out of Syria."
At the UN the next day, Ambassador Haley created a media sensation when she displayed photographs of the dead and accused Russia of being complicit. "How many more children have to die before Russia cares?" she asked. NBC News, in a typical report that day, quoted American officials as confirming that nerve gas had been used and Haley tied the attack directly to Syrian President Assad. "We know that yesterday's attack was a new low even for the barbaric Assad regime," she said. There was irony in America's rush to blame Syria and criticize Russia for its support of Syria's denial of any use of gas in Khan Sheikhoun, as Ambassador Haley and others in Washington did. "What doesn't occur to most Americans" the adviser said, "is if there had been a Syrian nerve gas attack authorized by Bashar, the Russians would be 10 times as upset as anyone in the West. Russia's strategy against ISIS, which involves getting American cooperation, would have been destroyed and Bashar would be responsible for pissing off Russia, with unknown consequences for him. Bashar would do that? When he's on the verge of winning the war? Are you kidding me?"
Trump, a constant watcher of television news, said, while King Abdullah of Jordan was sitting next to him in the Oval Office, that what had happened was "horrible, horrible" and a "terrible affront to humanity." Asked if his administration would change its policy toward the Assad government, he said: "You will see." He gave a hint of the response to come at the subsequent news conference with King Abdullah: "When you kill innocent children, innocent babies – babies, little babies – with a chemical gas that is so lethal ... that crosses many, many lines, beyond a red line . ... That attack on children yesterday had a big impact on me. Big impact ... It's very, very possible ... that my attitude toward Syria and Assad has changed very much."
Within hours of viewing the photos, the adviser said, Trump instructed the national defense apparatus to plan for retaliation against Syria. "He did this before he talked to anybody about it. The planners then asked the CIA and DIA if there was any evidence that Syria had sarin stored at a nearby airport or somewhere in the area. Their military had to have it somewhere in the area in order to bomb with it." "The answer was, 'We have no evidence that Syria had sarin or used it,'" the adviser said. "The CIA also told them that there was no residual delivery for sarin at Sheyrat [the airfield from which the Syrian SU-24 bombers had taken off on April 4] and Assad had no motive to commit political suicide." Everyone involved, except perhaps the president, also understood that a highly skilled United Nations team had spent more than a year in the aftermath of an alleged sarin attack in 2013 by Syria, removing what was said to be all chemical weapons from a dozen Syrian chemical weapons depots.
At this point, the adviser said, the president's national security planners were more than a little rattled: "No one knew the provenance of the photographs. We didn't know who the children were or how they got hurt. Sarin actually is very easy to detect because it penetrates paint, and all one would have to do is get a paint sample. We knew there was a cloud and we knew it hurt people. But you cannot jump from there to certainty that Assad had hidden sarin from the UN because he wanted to use it in Khan Sheikhoun."
The intelligence made clear that a Syrian Air Force SU-24 fighter bomber had used a conventional weapon to hit its target: There had been no chemical warhead. And yet it was impossible for the experts to persuade the president of this once he had made up his mind. "The president saw the photographs of poisoned little girls and said it was an Assad atrocity," the senior adviser said. "It's typical of human nature. You jump to the conclusion you want. Intelligence analysts do not argue with a president. They're not going to tell the president, 'if you interpret the data this way, I quit.'"
The national security advisers understood their dilemma: Trump wanted to respond to the affront to humanity committed by Syria and he did not want to be dissuaded. They were dealing with a man they considered to be not unkind and not stupid, but his limitations when it came to national security decisions were severe. "Everyone close to him knows his proclivity for acting precipitously when he does not know the facts," the adviser said. "He doesn't read anything and has no real historical knowledge. He wants verbal briefings and photographs. He's a risk-taker. He can accept the consequences of a bad decision in the business world; he will just lose money. But in our world, lives will be lost and there will be long-term damage to our national security if he guesses wrong. He was told we did not have evidence of Syrian involvement and yet Trump says: 'Do it."'
On April 6, Trump convened a meeting of national security officials at his Mar-a-Lago resort in Florida. The meeting was not to decide what to do, but how best to do it – or, as some wanted, how to do the least and keep Trump happy. "The boss knew before the meeting that they didn't have the intelligence, but that was not the issue," the adviser said. "The meeting was about, 'Here's what I'm going to do,' and then he gets the options."
The available intelligence was not relevant. The most experienced man at the table was Secretary of Defense James Mattis, a retired Marine Corps general who had the president's respect and understood, perhaps, how quickly that could evaporate. Mike Pompeo, the CIA director whose agency had consistently reported that it had no evidence of a Syrian chemical bomb, was not present. Secretary of State Tillerson was admired on the inside for his willingness to work long hours and his avid reading of diplomatic cables and reports, but he knew little about waging war and the management of a bombing raid. Those present were in a bind, the adviser said. "The president was emotionally energized by the disaster and he wanted options." He got four of them, in order of extremity. Option one was to do nothing. All involved, the adviser said, understood that was a non-starter. Option two was a slap on the wrist: to bomb an airfield in Syria, but only after alerting the Russians and, through them, the Syrians, to avoid too many casualties. A few of the planners called this the "gorilla option:" America would glower and beat its chest to provoke fear and demonstrate resolve, but cause little significant damage. The third option was to adopt the strike package that had been presented to Obama in 2013, and which he ultimately chose not to pursue. The plan called for the massive bombing of the main Syrian airfields and command and control centers using B1 and B52 aircraft launched from their bases in the U.S. Option four was "decapitation": to remove Assad by bombing his palace in Damascus, as well as his command and control network and all of the underground bunkers he could possibly retreat to in a crisis.
"Trump ruled out option one off the bat," the senior adviser said, and the assassination of Assad was never considered. "But he said, in essence: 'You're the military and I want military action.'" The president was also initially opposed to the idea of giving the Russians advance warning before the strike, but reluctantly accepted it. "We gave him the Goldilocks option – not too hot, not too cold, but just right." The discussion had its bizarre moments. Tillerson wondered at the Mar-a-Lago meeting why the president could not simply call in the B52 bombers and pulverize the air base. He was told that B52s were very vulnerable to surface-to-air missiles (SAMs) in the area and using such planes would require suppression fire that could kill some Russian defenders. "What is that?" Tillerson asked. Well, sir, he was told, that means we would have to destroy the upgraded SAM sites along the B52 flight path, and those are manned by Russians, and we possibly would be confronted with a much more difficult situation. "The lesson here was: Thank God for the military men at the meeting," the adviser said. "They did the best they could when confronted with a decision that had already been made."
Fifty-nine Tomahawk missiles were fired from two U.S. Navy destroyers on duty in the Mediterranean, the Ross and the Porter, at Shayrat Air Base near the government-controlled city of Homs. The strike was as successful as hoped, in terms of doing minimal damage. The missiles have a light payload – roughly 220 pounds of HBX, the military's modern version of TNT. The airfield's gasoline storage tanks, a primary target, were pulverized, the senior adviser said, triggering a huge fire and clouds of smoke that interfered with the guidance system of following missiles. As many as 24 missiles missed their targets and only a few of the Tomahawks actually penetrated into hangars, destroying nine Syrian aircraft, many fewer than claimed by the Trump administration. I was told that none of the nine was operational: such damaged aircraft are what the Air Force calls hangar queens. "They were sacrificial lambs," the senior adviser said. Most of the important personnel and operational fighter planes had been flown to nearby bases hours before the raid began. The two runways and parking places for aircraft, which had also been targeted, were repaired and back in operation within eight hours or so. All in all, it was little more than an expensive fireworks display.
"It was a totally Trump show from beginning to end," the senior adviser said. "A few of the president's senior national security advisers viewed the mission as a minimized bad presidential decision, and one that they had an obligation to carry out. But I don't think our national security people are going to allow themselves to be hustled into a bad decision again. If Trump had gone for option three, there might have been some immediate resignations."
After the meeting, with the Tomahawks on their way, Trump spoke to the nation from Mar-a-Lago, and accused Assad of using nerve gas to choke out "the lives of helpless men, women and children. It was a slow and brutal death for so many ... No child of God should ever suffer such horror." The next few days were his most successful as president.
America rallied around its commander in chief, as it always does in times of war. Trump, who had campaigned as someone who advocated making peace with Assad, was bombing Syria 11 weeks after taking office, and was hailed for doing so by Republicans,
Democrats and the media alike. One prominent TV anchorman, Brian Williams of MSNBC, used the word "beautiful" to describe the images of the Tomahawks being launched at sea. Speaking on CNN, Fareed Zakaria said: "I think Donald Trump became president of the United States." A review of the top 100 American newspapers showed that 39 of them published editorials supporting the bombing in its aftermath, including the New York Times, Washington Post and Wall Street Journal.
Five days later, the Trump administration gathered the national media for a background briefing on the Syrian operation that was conducted by a senior White House official who was not to be identified. The gist of the briefing was that Russia's heated and persistent denial of any sarin use in the Khan Sheikhoun bombing was a lie because President Trump had said sarin had been used. That assertion, which was not challenged or disputed by any of the reporters present, became the basis for a series of further criticisms:




- The continued lying by the Trump administration about Syria's use of sarin led to widespread belief in the American media and public that Russia had chosen to be involved in a corrupt disinformation and cover-up campaign on the part of Syria.
- Russia's military forces had been co-located with Syria's at the Shayrat airfield (as they are throughout Syria), raising the possibility that Russia had advance notice of Syria's determination to use sarin at Khan Sheikhoun and did nothing to stop it.
- Syria's use of sarin and Russia's defense of that use strongly suggested that Syria withheld stocks of the nerve agent from the UN disarmament team that spent much of 2014 inspecting and removing all declared chemical warfare agents from 12 Syrian chemical weapons depots, pursuant to the agreement worked out by the Obama administration and Russia after Syria's alleged, but still unproven, use of sarin the year before against a rebel redoubt in a suburb of Damascus.

The briefer, to his credit, was careful to use the words "think," "suggest" and "believe" at least 10 times during the 30-minute event. But he also said that his briefing was based on data that had been declassified by "our colleagues in the intelligence community." What the briefer did not say, and may not have known, was that much of the classified information in the community made the point that Syria had not used sarin in the April 4 bombing attack.
The mainstream press responded the way the White House had hoped it would: Stories attacking Russia's alleged cover-up of Syria's sarin use dominated the news and many media outlets ignored the briefer's myriad caveats. There was a sense of renewed Cold War. The New York Times, for example – America's leading newspaper – put the following headline on its account: "White House Accuses Russia of Cover-Up in Syria Chemical Attack." The Times' account did note a Russian denial, but what was described by the briefer as "declassified information" suddenly became a "declassified intelligence report." Yet there was no formal intelligence report stating that Syria had used sarin, merely a "summary based on declassified information about the attacks," as the briefer referred to it.
The crisis slid into the background by the end of April, as Russia, Syria and the United States remained focused on annihilating ISIS and the militias of al-Qaida. Some of those who had worked through the crisis, however, were left with lingering concerns. "The Salafists and jihadists got everything they wanted out of their hyped-up Syrian nerve gas ploy," the senior adviser to the U.S. intelligence community told me, referring to the flare-up of tensions between Syria, Russia and America. "The issue is, what if there's another false flag sarin attack credited to hated Syria? Trump has upped the ante and painted himself into a corner with his decision to bomb. And do not think these guys are not planning the next faked attack. Trump will have no choice but to bomb again, and harder. He's incapable of saying he made a mistake."
The White House did not answer specific questions about the bombing of Khan Sheikhoun and the airport of Shayrat. These questions were send via e-mail to the White House on June 15 and never answered.
Comments:
#

2017-06-28 10:24
This country is still run by the "intelligence community", CIA in the lead. They trump Trump. If you've never heard General Clark explain it, listen to him tell it:
https://www.youtube.com/watch?x-yt-cl=84924572&x-yt-ts=1422411861&v=f7NsXFnzJGw

Then when the CIA, voice of MIC, took over the White House under the Bushes and when they concocted the WMD story, the Middle East wars for oil & dope began.

Personally, I'm convinced that Obama and Hillary had neither voice nor interest in foreign affairs. Domestic, yes, but not foreign other than to say what they were told to say

Trump, of course, shocked that "intelligence community" and their backers profoundly. The long war between the CIA & FBI broke through and the FBI was getting all of the attention until Comey goofed. By the time Trump was installed, the CIA was back in the saddle and Trump proved to be an easy pony to train, especially given that the Republican Establishment was used to backing them on foreign affairs since their ex-Director took them to the White House innards back in 1988.

They are desperate to take over Syria then fight Iran and Russia. Despite the fact that they have lost every war they started since WW II. Behind their foreheads it's solid bone. That allows them to plot with false "allies" in the form of terrorist groups, do false flag events like sarin attacks and accuse Assad, etc., etc.
#

2017-06-29 06:39
Anon -- "They are desperate to take over Syria then fight Iran and Russia. Despite the fact that they have lost every war they started since WW II."
This is the point. The US can't win wars because the wars it starts are not against formal militaries which could be defeated but rather are against populations of nations which cannot be defeated. The US wants to prove it is the greatest nation on earth by having the population of a small nation get down on its knees and worship the US. They will never do that. It would be like worshiping the Great Satan.

At some point, the American people will have to rebel against these permanent wars. What worked in the Vietnam protests was the near shut down of universities. Now there is no draft so there is little risk for Americans. But we all are losers.

The people who run the US are psychopaths. The love killing and destroying other people and nations. They love what they did to Iraq, Libya, Afghanistan, Somalia, Sudan, Syria, and the list goes on and on and on.
#

2017-06-28 10:45
Donald Trump exhibits the same "Warrior President" syndrome we saw in George W. Bush, pretending to be a military hero by exercising his powers as commander-in-chief

to order more strikes against those identified as "enemies" by the Deep State and Military Industrial Complex. Really, the ideology of the targeted groups is immaterial to the issue, as are the lives of the victims and the lives and health of American military personnel who are put in harm's way. Of primary importance is that projectiles are expended (which will have to be replaced) and the press shows that he is a decisive man of action.

It is going to be difficult for me to support Democratic candidates as long as so many are cheering these atrocities from the sidelines.
#

2017-06-28 11:15




___________
In the wake of 9/11, the government presented ready-made answers. Intelligence appeared to tie Saddam Hussein to al-Qaeda and Osama bin Laden. Evidence was presented to the UN showing Iraqi weapons of mass destruction. Who could forget Colin Powell holding up that model vial of anthrax — a moment he now considers a "blot" on his career.



Even the news media, whose job it is to question power and the narratives spun by those in power, demonstrated that they themselves could be manipulated — or even be willing co-manipulators.
But this will never happen again.
Right?
And affordable dental care?
Stop joking!











Listen to them all.
If you genuinely want to catch up on what's really been happening as the MSM yammers on.