(Please consider making even a small contribution to the Welcome to Pottersville2 Quarterly Fundraiser happening now ($5.00 is suggested for those on a tight budget) or at least sending a link to your friends if you think the subjects discussed here are worth publicizing. Thank you for your support. We are in a real tight spot financially right now and would sincerely appreciate any type of contribution. Anything you can do will make a huge difference in this blog's ability to survive in these difficult economic times.)
Would someone please rewrite that old favorite, "Never Going To NYC Again"?
On second thought (should have been my first), maybe this is the
real
reason they want to stop letting us insure ourselves through Social Security, Medicare and Medicaid. They need the money (and it's a lot of money) to watch us more closely.
Yep. It certainly was such a good idea to put the financially-motivated, uneducated wealth-born in charge.
The New Totalitarianism of Surveillance Technology

If you think that 24/7 tracking of citizens by biometric recognition systems is paranoid fantasy, just read the industry newsletters

Naomi Wolf

Guardian.co.uk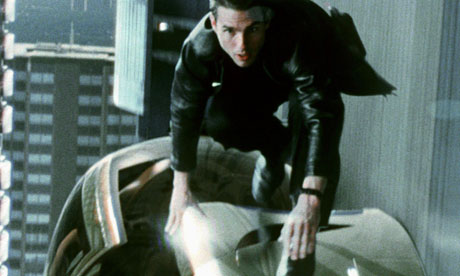 A software engineer in my Facebook community wrote recently about his outrage that when he visited Disneyland, and went on a ride, the theme park offered him the photo of himself and his girlfriend to buy – with his credit card information already linked to it.

He noted that he had never entered his name or information into anything at the theme park, or indicated that he wanted a photo, or alerted the humans at the ride to who he and his girlfriend were – so, he said, based on his professional experience, the system had to be using facial recognition technology. He had never signed an agreement allowing them to do so, and he declared that this use was illegal. He also claimed that Disney had recently shared data from facial-recognition technology with the United States military.
Yes, I know: it sounds like a paranoid rant.
Except that it turned out to be true. News21, supported by the Carnegie and Knight foundations, reports that Disney sites are indeed controlled by face-recognition technology, that the military is interested in the technology, and that the face-recognition contractor, Identix, has contracts with the US government – for technology that identifies individuals in a crowd.
Fast forward: after the Occupy crackdowns, I noted that odd-looking CCTVs had started to appear, attached to lampposts, in public venues in Manhattan where the small but unbowed remnants of Occupy congregated: there was one in Union Square, right in front of their encampment. I reported here on my experience of witnessing a white van marked "Indiana Energy" that was lifting workers up to the lampposts all around Union Square, and installing a type of camera. When I asked the workers what was happening – and why an Indiana company was dealing with New York City civic infrastructure, which would certainly raise questions – I was told: "I'm a contractor. Talk to ConEd."
I then noticed, some months later, that these bizarre camera/lights had been installed not only all around Union Square but also around Washington Square Park. I posted a photo I took of them, and asked: "What is this?" Commentators who had lived in China said that they were the same camera/streetlight combinations that are mounted around public places in China. These are enabled for facial recognition technology, which allows police to watch video that is tagged to individuals, in real time.
When too many people congregate, they can be dispersed and intimidated simply by the risk of being identified – before dissent can coalesce. (Another of my Facebook commentators said that such lamppost cameras had been installed in Michigan, and that they barked "Obey", at pedestrians. This, too, sounded highly implausible – until this week in Richmond, British Columbia, near the Vancouver airport, when I was startled as the lamppost in the intersection started talking to me – in this case, instructing me on how to cross (as though I were blind or partially sighted).
Finally, last week, New York Mayor Michael Bloomberg joined NYPD Commissioner Ray Kelly to unveil a major new police surveillance infrastructure, developed by Microsoft. The Domain Awareness System links existing police databases with live video feeds, including cameras using vehicle license plate recognition software. No mention was made of whether the system plans to use – or already uses – facial recognition software. But, at present, there is no law to prevent US government and law enforcement agencies from building facial recognition databases.
And we know from industry newsletters that the US military, law enforcement, and the department of homeland security are betting heavily on facial recognition technology. As PC World notes, Facebook itself is a market leader in the technology – but military and security agencies are close behind.

According to Homeland Security Newswire, billions of dollars are being invested in the development and manufacture of various biometric technologies capable of detecting and identifying anyone, anywhere in the world – via iris-scanning systems, already in use; foot-scanning technology (really); voice pattern ID software, and so on.

What is very obvious is that this technology will not be applied merely to people under arrest, or to people under surveillance in accordance with the fourth amendment (suspects in possible terrorist plots or other potential crimes, after law enforcement agents have already obtained a warrant from a magistrate). No, the "targets" here are me and you: everyone, all of the time. In the name of "national security", the capacity is being built to identify, track and document any citizen constantly and continuously.

The revealing boosterism of a trade magazine like Homeland Security Newswire

envisions endless profits for the surveillance industry

, in a society where your TV is spying on you, a billboard you drive by recognizes you, Minority Report style, and the FBI knows where to find your tattoo – before you have committed any crime: "FBI on Track to Book Faces, Scars, Tattoos", it notes; "Billboards, TVs Detect your Faces; Advertisers Salivate", it gloats; "Biometric Companies See Government as the Driver of Future Market Growth", it announces. Indeed, the article admits without a blush that all the growth is expected to be in government consumption, with "no real expectation" of private-sector growth at all. So much for smaller government!
To acclimate their populations to this brave new world of invasive surveillance technologies, UK Prime Minister David Cameron and and his Canadian counterpart, Stephen Harper, both recently introduced "snoop" bills. Meanwhile, in the US – "the land of the free" – the onward march of the surveillers continues apace, without check or consultation.
As hard as it is to believe, what many might think is the last bastion of total privacy, namely, the human mind, is quickly becoming just as vulnerable as the rest of our lives with the invention of mind-reading helmets and other ways to "hack" the mind.

Now security researchers from the University of California, Berkeley, the University of Oxford and the University of Geneva, have created a custom program to interface with brain-computer interface (BCI) devices and steal personal information from unsuspecting victims.

The researchers targeted consumer-grade BCI devices due to the fact that they are quickly gaining popularity in a wide variety of applications including hands-free computer interfacing, video games and biometric feedback programs.

Furthermore, there are now application marketplaces – similar to the ones popularized by Apple and the Android platform – which rely on an API to collect data from the BCI device.

Unfortunately with all new technology comes new risks and until now, "The security risks involved in using consumer-grade BCI devices have never been studied and the impact of malicious software with access to the device is unexplored," according to a press release.

The individuals involved with this project – which resulted in a research paper entitled "On the Feasibility of Side-Channel Attacks with Brain-Computer Interfaces," include Ivan Martinovic and Tomas Ros of the Universities of Oxford and Geneva, respectively, along with Doug Davies, Mario Frank, Daniele Perito, and Dawn Song, all of the University of California, Berkeley.

The findings of these innovative researchers are nothing short of disturbing.

They found "that this upcoming technology could be turned against users to reveal their private and secret information."



Indeed, they used relatively cheap BCI devices based on electroencephalography (EEG) in order to demonstrate the feasibility of surprisingly simple and effective attacks.

The information that can be gained by the attacks is

incredibly sensitive, including, "bank cards, PIN numbers, area of living, the knowledge of the known persons."



Most troubling is the fact that this represents "the first attempt to study the security implications of consumer-grade BCI devices," which makes the success of the attacks that much more disconcerting.

The researchers tested out their proprietary program on 28 different participants who, while they were obviously aware that they were cooperating in a study, were not aware that they were being "brain-hacked," as it were.

Unfortunately, or fortunately depending on your perspective, the researchers found "that the

entropy of the private information is decreased

on the average by approximately 15% – 40% compared to random guessing attacks."

Or as Sebastian Anthony put it in writing for ExtremeTech, "in general the experiments had a 10 to 40% chance of success of obtaining useful information."

The researchers leveraged a distinctive EEG signal pattern known as the P300 response. This brainwave pattern typically occurs when the subject recognizes something such as a friend's face or a tool necessary to complete a given task.

Using the knowledge of the P300 response, the researchers created a program which utilizes a technique which those who are familiar with typical hacking might call a "brute force" method.

However, this method is only loosely comparable to the traditional brute force methods since we're talking about using a brute force attack on the human mind.

The researchers did this by flashing pictures of maps, banks, PINs, etc. while monitoring the subject for any P300 responses.

After they had collected enough data from the subject, they were able to easily compare the captured information in order to see when a P300 response was triggered by a certain image.

Thus, this allowed the researchers to

discover with surprising accuracy which bank the subject uses, where they live

, and other information which could potentially be highly sensitive.

The key to capturing this information seems to be

making the subject remain unaware of the fact that they are being attacked

either through specially formulated "games" designed to steal personal information from the mind of the target or through a

false sense of security engendered by social engineering techniques.



Personally, I find it quite troubling that people could have their personal information stolen simply by playing what they think is a normal game controlled by a BCI device when in reality it is a carefully engineered piece of software designed to pull private data from the target's mind.

As Anthony correctly points out, "Moving forward, this brain hack can only improve in efficacy as BCIs become cheaper, more accurate, and thus more extensively used."

However, Anthony incorrectly states, "Really, your only defense is to not think about the topic," when in reality the

P300 response can occur without consciously "thinking" about the topic.



The response can occur when a picture of a familiar face or location shows up, even if the individual isn't thinking about the familiar person or the location. While someone could theoretically be on the defensive in an attempt to minimize their responses, the entire methodology of the hacker depends on avoiding detection to begin with.

Therefore, if the target is already consciously on the defensive, the hacker has failed in their task of remaining in the shadows and carrying out the attack without the knowledge of the target.

That being said, if programs are created in a clever enough manner, I seriously doubt that most people would be able to tell that they're being actively attacked in order to obtain their most private and sensitive information.
It seems to have evolved into a truism that if your readers think you're a conspiracy believer that your level of trustworthiness has deteriorated to zilch. So, if someone wants to have lots of amiable readers, one shouldn't indulge in even mentioning the following. I'm sure it's meaningless. Don't you?
Wayne Madsen
Aurora massacre: several links between James Holmes and U.S. government research (Salk Institute involved in neurologically enhancing soldiers' abilities on battlefield...connections to DARPA)

James Holmes, the 24-year old suspect in the mass shooting of Batman "The Dark Knight Rises" movie goers in Aurora, Colorado that left 12 people dead and 58 injured, has had a number of links to U.S. government-funded research centers. Holmes's past association with government research projects has prompted police and federal law enforcement officials to order laboratories and schools with which Holmes has had a past association not to talk to the press about Holmes.

Holmes was one of six recipients of a National Institutes of Health Neuroscience Training Grant at the University of Colorado Anschutz Medical Campus in Denver. Holmes is a graduate of the University of California at Riverside with a Bachelor of Science degree in neuroscience. Although Holmes dropped out of the PhD neuroscience program at Anschutz in June, police evacuated two buildings at the Anschutz center after the massacre at the Aurora movie theater. Holmes reportedly gave a presentation at the Anschutz campus in May on Micro DNA Biomarkers in a class titled "Biological Basis of Psychiatric and Neurological Disorders."

Initial reports of Holmes having an accomplice in the theater shooting have been discounted by the Aurora police. However, no explanation has been given by police why the Anschutz campus buildings were evacuated after Holmes was already in custody in the Arapahoe County jail.



The Anschutz Medical Campus is on the recently de-commissioned site of the U.S. Army's Fitzsimons Army Medical Center and is named after Philip Anschutz, the billionaire Christian fundamentalist oil and railroad tycoon who also owns The Examiner newspaper chain and website and the neo-conservative Weekly Standard.

The Anschutz Medical Campus was built by a $91 million grant from the Anschutz Foundation.

In 2006, at the age of 18, Holmes served as a research intern at the Salk Institute at the University of California at San Diego in La Jolla. It is noteworthy that for the

previous two years before Holmes worked at the Salk Institute, the research center was partnered with the Defense Advance Research Projects Agency (DARPA),

Columbia University, University of California at San Francisco, University of Wisconsin at Madison, Wake Forest University, and the Mars Company (the manufacturers of Milky Way and Snickers bars) to prevent fatigue in combat troops through the enhanced

use of epicatechina

, a blood flow-increasing and blood vessel-dilating anti-oxidant flavanol found in cocoa and, particularly, in dark chocolate.

The research was part of a larger DARPA program known as the

"Peak Soldier Performance Program," which involved creating brain-machine interfaces

for battlefield use, including human-robotic bionics for legs, arms, and eyes. DARPA works closely with the Defense Science Office on projects that include the medical research community. Fitzsimons was at the forefront of DARPA research on the use of brain-connected "neuroprosthetic" limbs for soldiers amputated or paralyzed in combat.

According to his LinkedIn profile,

James Holmes's father, Dr. Robert Holmes

, who received a PhD in Statistics in 1981 from the University of California at Berkeley,

worked for San Diego-based HNC Software, Inc.

from 2000 to 2002.

HNC, known as a "neural network" company, and DARPA, beginning in 1998, have worked on developing "cortronic neural networks," which would allow machines to interpret aural and visual stimuli to think like humans.

The cortronic concept was developed by HNC Software's chief scientist and co-founder, Robert Hecht-Nielsen. HNC merged with the Minneapolis-based Fair Isaac Corporation (FICO), a computer analysis and decision-making company. Robert Holmes continues to work at FICO.

It has also emerged that Holmes, when he was 20, worked as a camp counselor at Camp Max Straus of the Jewish Big Brothers and Sister of Los Angeles. According to the Jewish Journal, among other tasks, Holmes helped to teach boys between the ages of 7 to 10 archery. In another unusual detail, the car Holmes used to drive to the Aurora movie theater had Tennessee plates. Holmes is originally from San Diego.

James Holmes is the

grandson of Lt. Col. Robert Holmes

, one of the first Turkish language graduates of the Army Language School, later

the Defense Language Institute, in Monterey, California

. Graduating from the Turkish language class in 1948, Holmes spent a career in the Army, which likely included more than a few intelligence-related assignments. Typically, U.S. military officers conversant in Turkish served with either the Defense Intelligence Agency or the Central Intelligence Agency at either the U.S. embassy in Ankara or the Consulate General in Istanbul, or both.

Terrence Sejnowski, the Francis Crick Professor at the Salk Institute for Biological Studies and the director of the Computational Neurobiology Laboratory, in an interview with Cognitive Science Online in 2008, had the following comment about recent studies of the human brain: "Alan Newell [cognitive psychology researcher at the intelligence community-linked RAND Corporation] once said that when AI [artificial intelligence] was founded not enough was known about the brain to be of any help and in the early 1980s, symbol processing was the only game in town.

That has changed and we now know a lot about the brain, perhaps more than we need to know

[emphasis added]."

More than we need to know!

The links between the younger and elder Holmes and U.S. government research on creating super-soldiers, human brain-machine interfaces, and human-like robots beg the question: "Was James Holmes engaged in a real-life Jason Bourne TREADSTONE project that broke down and resulted in deadly consequences in Aurora, Colorado?" In any event, if the Batman movies are now serving as a newer version of J.D. Salinger's "Catcher in the Rye" subliminal messaging triggering mechanism, -- Salinger's novel was of interest to a number of American political assassins -- keep in mind that August 10 is the opening date of The Bourne Legacy. It may be wise to skip that film in the theater for a while.
Nurse Who "Saw Everything" At Hospital After Suspicious Batman Shooting Found Dead at 46





Startling Evidence That Central Banks And Wall Street Insiders Are Rapidly Preparing For Something BIG





Suicide of Deloitte Partner Daniel Pirron Linked to Standard Chartered's Iran Scandal



Why Are George Soros and John Paulson Buying Up So Much Gold?

Morgan Stanley: 'The Global Economy Has Sunk Deeper Into The Twilight Zone'

Crude Spikes On Renewed Mid-East War Fears As Saudi Arabia Recalls Lebanon Citizens

40 Points That Prove That Barack Obama And Mitt Romney Are Essentially The Same Candidate

And Now Facebook's Bankers Are Divvying Up The $100 Million They Made Shorting Facebook's Stock

Banks Falsify Credit Card Lawsuits in Ninety Percent of Cases?




Suicide of Deloitte Partner Daniel Pirron Linked to Standard Chartered's Iran Scandal




Peter Thiel's philanthropic foundation gives up to $350,000 to a company named Modern Meadow, which plans to use 3D bioprinting to create an "edible prototype" that's a meat replacement.
Guess Who!
And you thought being a venture capitalist would be somehow altruistic?
Or perhaps you just wanted to be a truth teller?
Ukrainian Environmentalist Brutally Beaten to Death

Excerpt: "Four days after conducting a press conference to warn that 180 tons of dangerous chemical and radioactive industrial waste had arrived at the city of Kryvyi Rih (in the Dnipropetrovsk area of Ukraine), which was likely to be 'recycled' into the consumer product stream, 57 year old Volodymyr Goncharenko was brutally beaten to death."
Why People Reject Conspiracy Theories